Why Connecticut Students Photographed Clash Between Protestors On Long Island
Tiandre Tuosto, an organizer for Long Island Peaceful Protest, films Joseph Boslet, of Smithtown during a heated moment as the group marched in Smithtown, New York on Saturday to protest the town's use of "thin blue line" flags.";s:3:
Courtesy Wasim Ahmad
A clash between Black Lives Matter and Blue Lives Matter demonstrations over the weekend in Smithtown, Long Island, ended with at least two arrests. Demonstrations like these have been documented across the U.S. in the past year. This altercation was captured by an introductory photojournalism class at Quinnipiac University in Connecticut.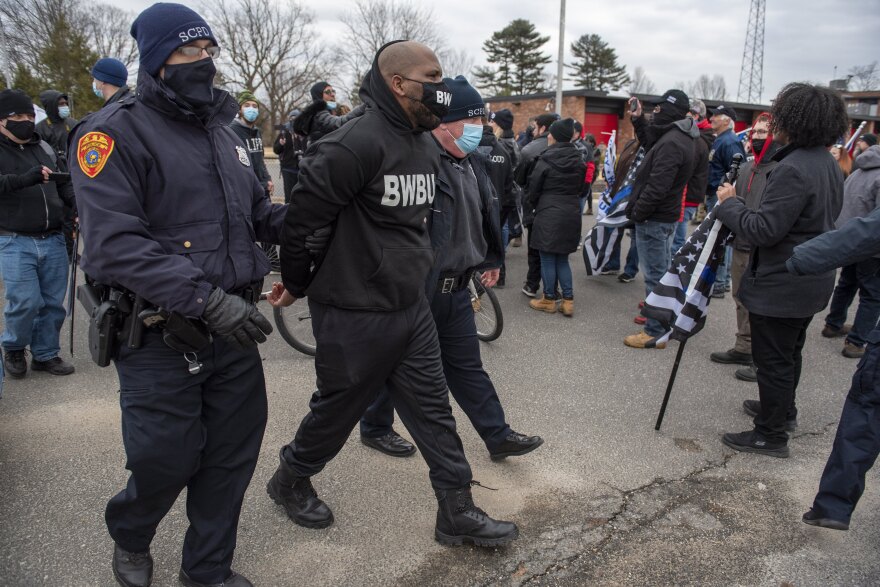 Wasim Ahmad, a Quinnipiac journalism professor, said the class went to Long Island to get their feet wet using a camera but learned a lesson about how to capture conflict.
"It was definitely a first," student Julianna Coscia said. "I think I went into it, assuming that it would get a little crazy. But you know, preparing versus actually being there is very different. It was unlike anything that I've ever seen in person, like you see it on the news, and you read about it, but actually being there was a little overwhelming."
Ahmad said organizers were protesting an American flag with a thin blue line that was flown outside the Smithtown Fire Department. The organizers said the flag represents opposition to the racial justice movement. The department said the flag symbolizes support for law enforcement.
Desiree Diorio, WSHU: How did your Connecticut students become involved in photographing this Long Island protest?
Wasim Ahmad: They became involved in photographing this particular protest, because I live in Long Island. I actually commute every day to Hamden, Connecticut, to teach at Quinnipiac.
I have been following this protest, going to some of them photographing them as a journalist for the last since the George Floyd killing. And so I have been aware of what's going on down here and very plugged in to what's happening. And so, to teach my students how to cover these events, I offered the chance to come in, shoot it with me as part of their class and, you know, teach them how to handle themselves in this kind of environment.
DD: What did you see there, and what did you hope to capture on film?
WA: So, it started out as only a protest from the Long Island Peaceful Protest group to protest the blue line flag that you're describing. But as the week went on, it was very clear that there was going to be a lot of Back the Blue supporters.
And so, you know, this is history happening right before our eyes. And as journalists, we have to write the first draft of history. And my job is to teach student journalists on how to write that. So where I can, if something is happening in their backyard, or close enough to their backyard, I will take them and go out with them and try to be the experienced hand that makes sure that they don't get arrested.
DD: What kinds of conversations did you have with your students before the protest to prepare them?
WA: I have a lot of experience taking students to cover Occupy Wall Street, when when that happened, and then Black Lives Matter around the time of the Eric Garner killing was about 2014. And so I have experience and just seeing how young journalists handle themselves in protests. I've kind of made my current students aware of the challenges that students face.
I've started making press passes from the school that identify them as student journalists so that police are aware as well. But then I also show them videos of what the protest is, and like, I make it a point to wear a body camera to these protests. So that way, it's protection for myself, but also serves as a teaching tool to show students how I shoot, how I move, how I think, and I showed students the video of how rowdy they can get.
And then I showed them photos, which show the principles I teach in any photojournalism class, which is shoot wide shots, scene setters, medium shots, capture the right moment, stick with a scene. And then the most important part: do the journalism. Talk to people; get their stories. Why are they there? Don't label someone a protester if you haven't talked to them to know that they're a protester, for instance.
DD: Journalists have been targeted at events like this before. It surprised your student, Sam DeFusco:
"Being yelled at told to go home, call me a 'commie' and all these things," DeFusco said, "even though I was just there taking pictures. I wasn't even saying my own opinion or anything. It was just it was very interesting to see how distrustful people were and what they assumed what side I was on, even though I was just there with a camera."
What do you tell your students about why and how journalists should capture conflict?
WA: You know, this is as important a movement as the Civil Rights Movement was. And so to not be a part of writing that story, photographing that story means you're not a part of the conversation. And that's why I brought the students down there.
But also in terms of, you know, the students being called a "commie" and that sort of thing. One of the things I thought was interesting was that I come from a place where I have an intersectionality of, I am a journalist, but I'm also a person of color.
And it seems that in this protest, things that I didn't encounter in Occupy Wall Street, no one told me to go back to where I came from, or ask me where I'm from, or stop me from really crossing over to anywhere.
But in these protests, what I found was interesting in particular this past weekend was that we all were wearing the same press pass (we were wearing nothing that identified us with either side), my two students who are white are able to move move freely amongst the groups.
Whereas there's a video I posted on my encounter with one protester on Twitter I posted, he was telling me go back where I came from, and blocking me from coming on the Back the Blue side of protest. (The video contains expletives.)
And I tell the students that a lot of what you're going to get is because the discourse around journalists has gotten a lot worse over the last few years, and we have to be prepared that people will view you negatively, even though you haven't done anything to him.
DD: Is there anything else about this protest that stands out to you?
WA: I think one of the hardest parts for students in covering this sort of thing is college students tend to be are more liberal, and they tend to identify with one side or the other. And it's hard.
One of the hardest lessons to learn is that you can't sit there and get into an argument with people on Back the Blue side or belong on peaceful protest side. You have to objectively, impartially tell the story and show and say exactly what happened. And, you know, I tell the students too, the best thing you can do is conduct yourself in that way. Because the pictures are going to come out, the stories are going to come out and they will speak for themselves, the work will speak for itself. And the public can look at the photos and look at the images and look at the audio and decide who who's being a racist and who's not.
Wasim Ahmad is a Long Island photojournalist and assistant professor of journalism at Quinnipiac University.