Democrats bank on student debt
At a breakfast meeting in Washington on Tuesday, Congressman Steve Israel was eating eggs and fielding questions from reporters about fundraising statistics and battleground districts.
But halfway into the meeting, he put down his fork and talked about student debt.
"Forgive me for this, but this is what you guys are missing," Israel said, "This issue is so potent it surprised me."
As head of the Democratic Congressional Campaign Committee, Israel is in charge of getting as many Democrats as possible elected this November. He says his polling indicates the "hidden issue" that's about to "erupt" is student loans.
"There is a palpable middle class anxiety specifically about the level of debt that children are beginning their working lives with."
Israel goes on to talk about the scale of student debt.
According to the Project on Student Debt, three quarters of all graduates have debt, averaging about $26,000 per student. The Government Accountability Office says there is at least $94 billion worth of student loans in default.
Israel says these numbers mostly worry people in suburban, closely divided districts, and "uniquely unifies our base with our persuadables."
Congressional Democrats Target Private Student Loans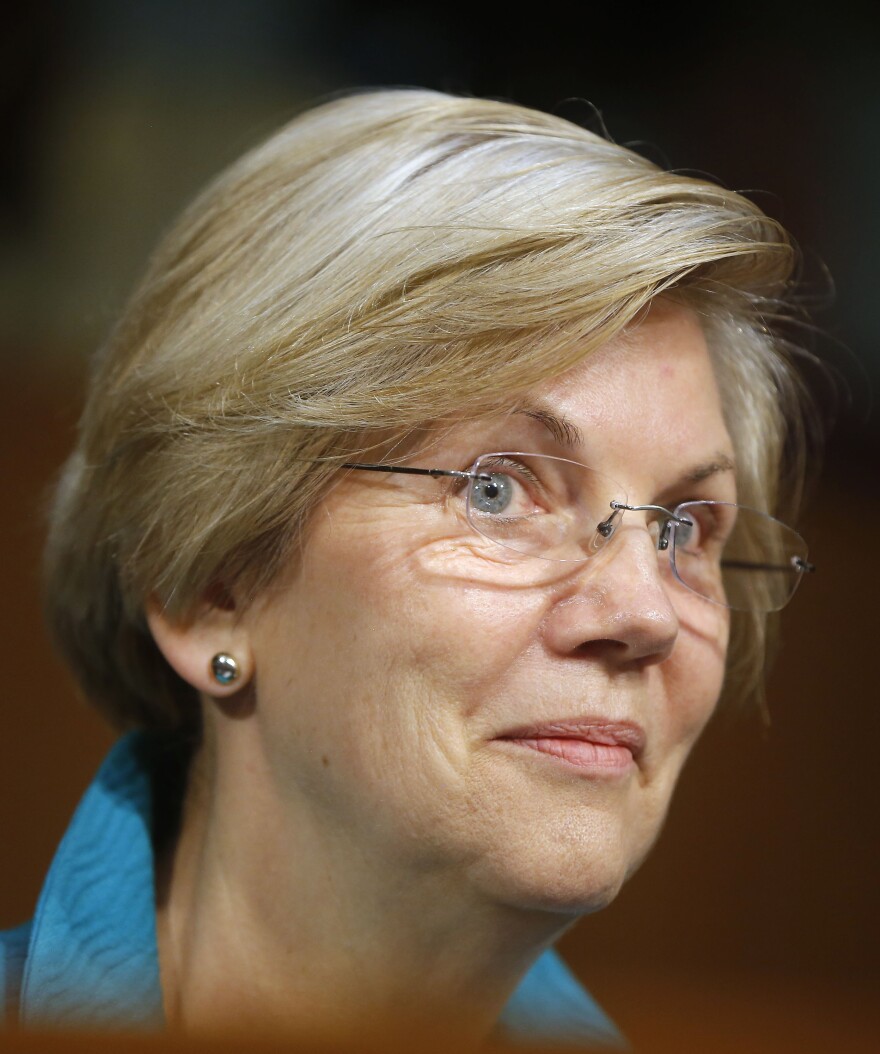 The push to make student loans a bigger issue became apparent in a Senate banking hearing Thursday where Democrats railed against private student lenders.
Sen. Elizabeth Warren, a Democrat from Massachusetts, chastised private lenders for not modifying more troubled loans.
"What I'm talking about are loan modifications that reduce the interest rate, forgive interest, and reduce principle," she said.
Lenders say they are in the process of doing more modifications, but Warren's appetite was unquenched.
Warren is the author of another, more sensational, proposal that would tax the wealthy in order to pay for the refinancing of government student loans.
The bill died earlier this month without much surprise. Republicans mocked it as an election year gimmick, saying federal student loans need to have high interest rates in order to pay for the large number of students who end up defaulting on their loans.
Obama's New Rules for Student Loans
Another student loan issue Democrats hammered away at in the banking hearing Thursday had to do with who writes the rules for student bank accounts.
For many students, when loan checks are written the money is deposited in accounts that students access with debit cards. The Obama administration wants the Department of Education to write those rules so that banks are barred from charging "hidden fees."
Good government groups say some 9 million college students are subject to "swipe fees" that occur each time a student uses their debit card for books, meals, or other student expenses.
"Students at some campuses are charged steep and unusual fees to get to their federal financial aid, including PIN transaction fees at the point of sale. Overdraft fees of $37 or more," said Christine Lindstrom, a researcher for the U.S. Public Interest Research Group.
The Federal Deposit Insurance Corporation says students can sometimes pay hundreds of dollars in fees just to access their student loan money.
Both Republicans and private lenders say that such usurious fees are the work of a few bad banks. They add that Obama's effort to disallow those fees will backfire.
"Unfortunately this could force banks and credit unions to simply exit campus markets leading to diminished student choice, restricted convenience, and more unbanked students," said Sen. Mike Crapo, Republican from Idaho.
Congress is unlikely to address the $1.2 trillion in outstanding student loans before this fall's election. If legislation were passed, Democrats would lose a major talking point with voters.
Also, both sides are far apart.
Republicans are opposed to Obama's move to cap student loan payments at 10 percent of a borrower's monthly income. Instead, Republicans are proposing a bill that would allow them to take student loan payments directly from their paycheck before they are taxed.