Feds Select More Long Island Waters For Wind Energy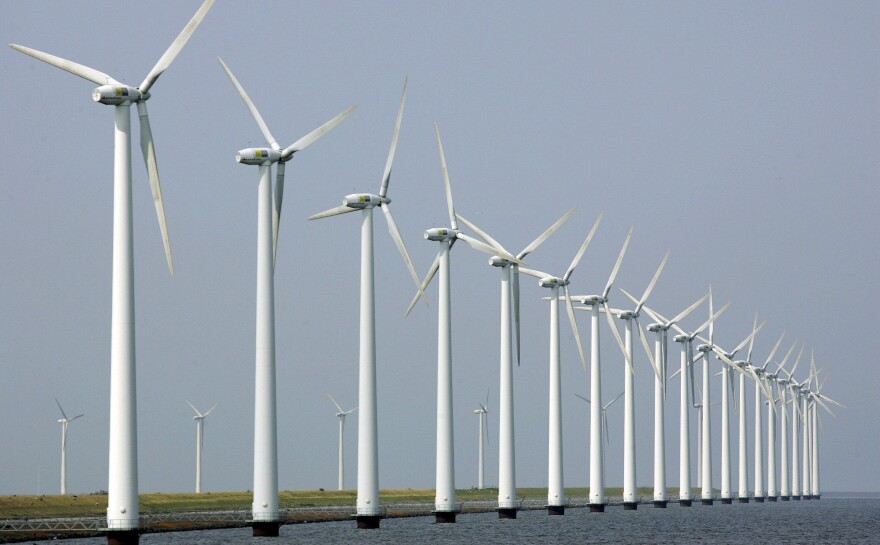 The Biden administration has announced prioritizing the development of more wind energy in certain areas off the coast of New York and New Jersey. The areas in the Atlantic Ocean expand nearly the entire southern coast of Long Island — from Long Beach to the Shinnecock Inlet in the Hamptons.
The U.S. Bureau of Ocean Energy Management designated on Monday five new areas of shallow waters for possible offshore wind development between Long Island and New Jersey coasts. The selection follows years of controversial community outreach and lobbying from the clean energy industry, lawmakers, marine biologists, Hamptons homeowners and the commercial fishing industry.
Last year, bipartisan members of the New York and New Jersey congressional delegation called on the Trump administration to speed up the designation process after the federal government missed a deadline to approve sites for wind permits by a year and a half.
"I have long been pushing to get offshore wind development moving off the coast of Long Island," Rep. Kathleen Rice (D-NY) said this week. "After years of delays, I commend the Biden administration for taking action right out of the gate to jumpstart offshore wind development and finally get this process moving again."
President Joe Biden's goal is to create 30 gigawatts of offshore wind by 2030 to combat climate change with clean energy.
Offshore wind near Long Island includes a "nation-leading" 9 gigawatts of wind energy, said Doreen Harris, president of the New York State Energy Research and Development Authority. That's enough to power 6 million homes. The state is targeting 70% renewable energy by 2030 and a zero-emission power sector by 2040.
"We're blessed with this huge natural resource we have right here of our shores and what's so important about offshore wind is that it is a resource that is available night and day," said Gordian Raacke, executive director of Renewable Energy Long Island. "We need that kind of a diversified portfolio of renewable energy resources that can power our economy 24/7 every day of the year.
"We're not only addressing climate change but we're also building a whole new industry along with the paying union jobs as we really retool our entire economy to run on clean energy," he said.
A study last August from global energy consultant Wood Mackenzie shows the New York Bight can support up to 25,000 development and construction jobs through 2030, as well as an additional 4,000 operations and maintenance jobs annually.
The next step is for the federal government to publish a proposed sale notice, followed by a formal public comment period and a lease sale in late 2021 or early 2022, according to the Biden administration.
"The designation of offshore wind areas fills a critical need in the planning process to propel us forward in the fight against climate change," said Adrienne Esposito, executive director of Citizens Campaign for the Environment. "Action today will save our environment for tomorrow."
The Biden administration plan calls for over $1 million in grants funding to "improve understanding of offshore renewable energy for the benefit of a diversity of stakeholders, including fishing and coastal communities."
However, not included were programs to compensate the fishing industry for the loss of fishing grounds — a sticking point over the last few years with federal regulators and marine scientists.
Bonnie Brady, executive director of the Long Island Commercial Fishing Association, said the announcement was disheartening.
"These guys and these communities they work with, they work their heart and soul out, they go out in all kinds of weather that most people would go home and they really take pride in being able to harvest food for America [despite] whatever hurdle has been handed to them," Brady said. "They've jumped over it and kind of like, the house in The Wizard of Oz, suddenly, they've all had houses dropped on them — except they're turbines."
She said the announcement follows a year of economic distress brought on by the pandemic. Nearly 90% of the commercial fishing industry on Long Island feeds New York City restaurants that were shut down, restricted and down-sized last year.
"Let's face it," she said. "I've been fighting on this issue for fishermen to get a true seat at the table, not be served for lunch, for 20 years."
Brady said the fishing industry is expected to be loud in its opposition.
Other controversial claims against how the federal, state and local governments plan to move forward with its renewable energy goals are from Hamptons homeowners who either don't want to be able to see wind turbines from their multi-million dollar homes or are concerned about how power will be connected to the electric grid on Long Island.
Last week, the Town of East Hampton formally signed a $29 million agreement with offshore wind developers Orsted and Eversource to bury a high-powered transmission cable under a town-owned beach in Wainscott. It would then be snaked through town property to an electric substation.
Residents had formed the Citizens for the Preservation of Wainscott over a year ago to lobby the town against the undergrounding project. Their efforts to sue to block the proposal, and even form their own village government to claim ownership of the beach, have failed. They are able to appeal those decisions.
Opponents, including the fishing industry, are supportive of renewable energy — just not when it might interfere with where they live and work, Raacke said.