Connecticut Groups Take Issue With Age-Based Vaccine Roll Out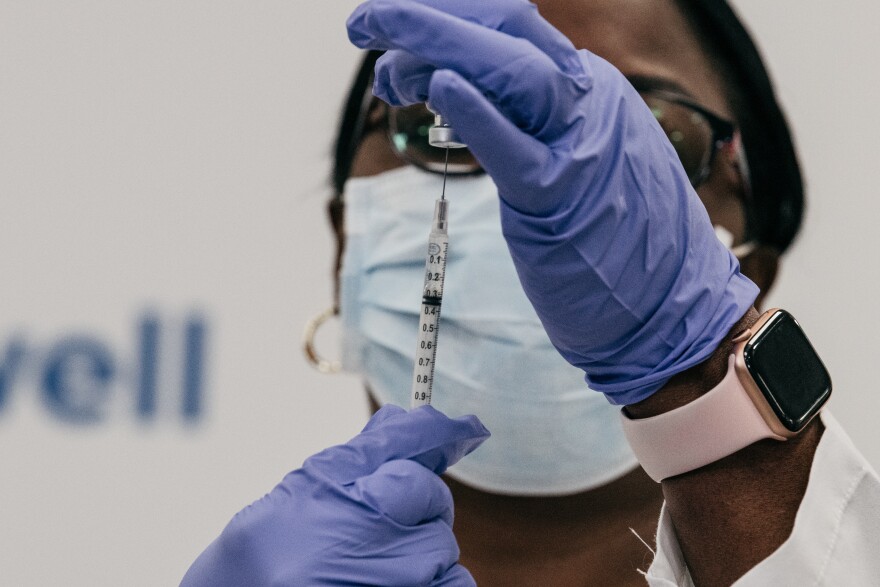 Connecticut Governor Ned Lamont's announcement earlier this week that based COVID vaccine eligibility solely on age has caught people by surprise.
Essential workers and those with pre-existing conditions now have to wait until their age group is eligible, which could be months. WSHU's Bill Buchner sat down with John Dankosky with the Connecticut Mirror to discuss this topic.
Bill Buchner, WSHU: John, this has apparently caught everybody by surprise including members of the advisory group that Lamont assembled.
John Dankosky: Yeah, Bill. We talked to a number of the members of this vaccine advisory committee including some who were on the allocation subcommittee.
On our podcast "Steady Habits," I talked with Tekisha Everette: she's the executive director of Health Equity Solutions and she's a member of the subcommittee. She told me that the committee hadn't been told about this decision until just moments before it was announced and frankly, that the decision is exactly the opposite of what she would have advised.
Tekisha Everette: "I would have loved a bigger head's up. Because, as you can imagine, the phones started ringing and I had no idea, no context. So, and still looking for more information to understand better, how are we rolling out this equity part of it? Deeper distribution into the communities that have been disenfranchised in this process already by not having the vaccine. What does that mean and how are we holding people accountable? That's the information I'm looking forward to now. So, I just want to see how it's going to work and I'm still going to voice my concerns."
JD: And to be clear, Bill, this is someone — Tekisha Everette — who's got a $200,000 contract with the state to help address questions in Black and Latinx communities about vaccine hesitancy. So she's very invested in whatever the state is doing, working. Many members of the legislature who we talked to were just as surprised.
BB: Lamont and the administration has suggested this is the fairest way to distribute the vaccine and will prevent people from "jumping the line" so to speak. What are you hearing?
JD: Well, not everyone is agreeing with that and the idea of the strictly-age based approach means that it may be simple to just hear people by age but it means that it's going to be inequitable. The older populations in our state are overwhelmingly white and by taking younger essential workers out of the mix, many of whom were people of color, you're doing a disservice to communities that are much harder hit by COVID.
One of the analyses that we did at the Mirror has to do with the death rates for black people from COVID who are 55 vs. white people who are 65. And those rates are about the same so if you're reaching older white people, they have about the same chance of getting sick and dying from COVID as much younger Black people, so this could have big impacts in many communities. Another thing frankly that we're hearing, Bill, is that the rollouts for vaccines have been much slower in some cities and it's harder to get vaccines for people who don't have transportation.
BB: There's been at least one complaint filed with the federal government. Do we know of any other complaints or lawsuits?
JD: Yeah, the complaint is from the Disability Rights Connecticut group. It's with the office for civil rights against the state and the governor "for discriminating against persons with disabilities by not prioritizing them over the general population." Now, right now, I don't know of any other suits but disability rights advocates are upset because they thought that people with specific medical conditions would be next in line. I talked with Kathy Flaherty. She's from the Connecticut Legal Rights Project.
Kathy Flaherty: "Just the fact that disabled people have been left behind since the beginning of the pandemic, I just feel like this was a slap in the face and kick in the teeth."
JD: The governor addressed these concerns, Bill, by saying that the new system is going to simplify things and will get more people vaccinated more quickly and that the CDC guidance on the issue in terms of who should be getting vaccinated is just far too complicated. Good news though on the horizon: Connecticut set to get about 100,000 doses a week and starting soon, more doses coming from the new Johnson & Johnson vaccine.
John Dankosky is director of multi-platform content at Connecticut Mirror.